The controversial state contractor has poorly overseen sexually violent predators for two decades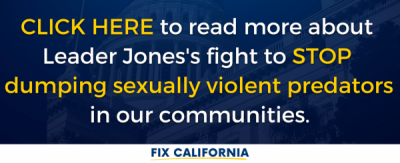 Today, the Joint Legislative Audit Committee unanimously approved a request by Senate Minority Leader Brian W. Jones (R-San Diego) to audit Liberty Healthcare's long-running exclusive contract to manage the Sexually Violent Predator Conditional Release Program (SVP CONREP) currently overseen by the Department of State Hospitals (DSH). A petition in support of the audit request has almost 1,600 signatures. Learn more about the SVP problem here.
"East Coast based-Liberty Healthcare sneaks into unsuspecting communities across California and employs a disturbing placement strategy where they try to secretly release dangerous SVPs and rapists into residential neighborhoods," said Leader Jones. "We are thankful that the bipartisan Legislative Audit Committee understands the need to further investigate Liberty Healthcare's poor management of SVPs. Today is the first step towards fixing this broken and alarming SVP release program."
"Public perception is that Liberty Healthcare and the CA Department of State Hospitals are unresponsive to community concerns and threaten public safety," said Sarah Rogers, a clinical and industrial psychologist. "By not revealing the contract and ignoring requests by the press, public, and Senator Jones, the Department of State Hospitals fosters a dangerous precedent of being above public scrutiny and this must end.  An audit is the only means by which pre-release and conditional-release therapy and training practices may be fully understood. It is apparent that the contract is flawed and may be mismanaged. Conditional Release should be halted until the audit is conducted and the results are published for public review. Good governance and transparency are needed."
Click here to download the full audit request letter. Below is an excerpt from the letter:
Liberty Healthcare's practices are not in line with public oversight and fail to focus on safety that the program calls for. In fact, it appears full details of where Liberty Healthcare is leasing homes for sexually violent predators are kept secret from neighbors, schools, and local government officials, including even local law enforcement. It is only after Liberty Healthcare signs leases for homes and pays for them with our tax dollars, that they slowly release details to the community, making it almost impossible to stand up against inappropriate placements. County District Attorneys have gone to court to block these dangerous placements of SVPs, and many judges have recognized the threat to public safety and ruled against Liberty Healthcare's placements. Through the several attempted placements during my time as a Senator, it has been very difficult, if not impossible, to get information from DSH about the operation of their 20-year exclusive partnership with Liberty Healthcare. This troubles me because it seems that DSH has delegated their authority and responsibility to a private contractor.
I believe it is long past time to bring transparency to the SVP CONREP process operations.